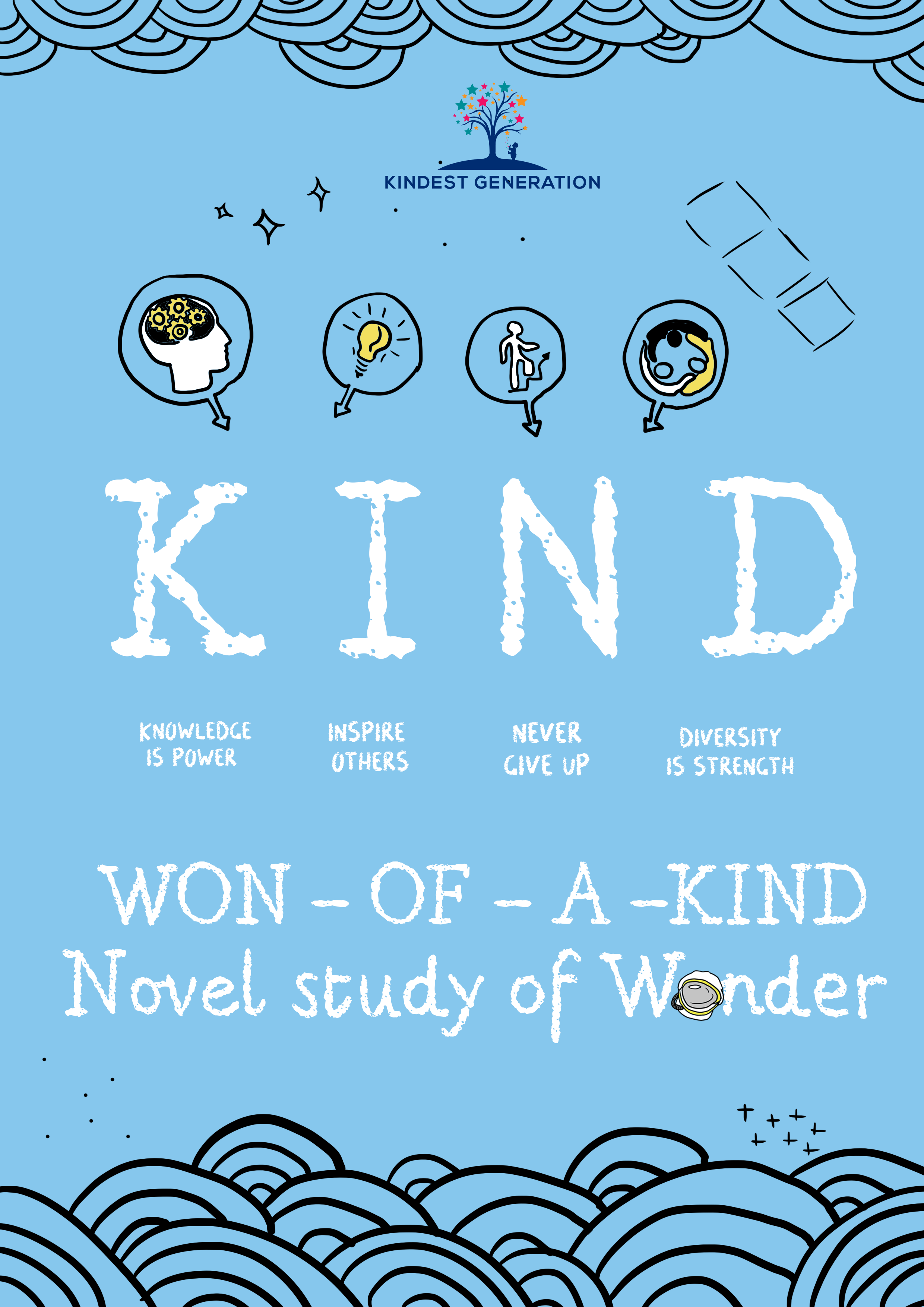 The Kindest School is proud to present our #WonOfAKIND novel study, designed to be a 21st century reading companion to R.J. Palacio's novel, Wonder.

Educators can download all lessons into their Nearpod library and use it with their class in seconds, all at the click of a button!
This completely paperless, Won-of-a-KIND novel study contains 22 interactive, ready-to-teach Nearpod lessons, along with 8 assessments for each part of the novel.

The easiest way to engage your students with this Won-of-a-KIND novel!
Each lesson has:
Terms taken from The Kindest School's Premium Content Quizlet sets;
A self-graded quiz with an open-ended question to check comprehension;
A fill-in-the blank activity to help summarize what has been read;
A empathy reflection piece where learners will "tweet" on a class collaboration board from the point of view of the narrator;
Most lessons have:
A Venn diagram draw-it activity to compare and contrast the film and the book;
A character traits predictions and reflection piece on many of the main characters;Open-ended reflection questions about social issues that arise in the book;
Teachers will also receive our World of Wonders lesson from our KIND collection of non-fiction lessons. (March 2019)
This Won-of-a-KIND novel study was recently discovered by Quizlet, who subsequently made The Kindest School one of Quizlet's first "Premium Content Partners!" The Kindest School's premium Quizlet content contains 600 unique terms with parts of speech and images, including pop-culture references and idioms, as well as 75 multiple choice reading comprehension questions. (***Many of those terms and questions can be found in this novel study, as every lesson begins with a vocabulary set on Quizlet!)
Here's are just some of the benefits of using The Kindest Generation in the Classroom!
Use this with your students today!
It's yours to own forever!
Customize and edit this lesson to meet your teaching style!
Control your student's devices!
Get feedback in real time!
Download every student answer from the lesson into your Google Drive or local drive! (Class or student reports)
Minimal planning, maximum engagement!
Environmentally friendly and completely paperless!
NO MORE COPYING PACKETS!
If you don't have a Nearpod account already, sign up here. You're minutes away from using this ready-to-teach lesson with your students!
Help us #GrowKindness by following us on Instagram, Facebook, and on Twitter!
Feel free to email us at teachkindness@kindestgeneration.com