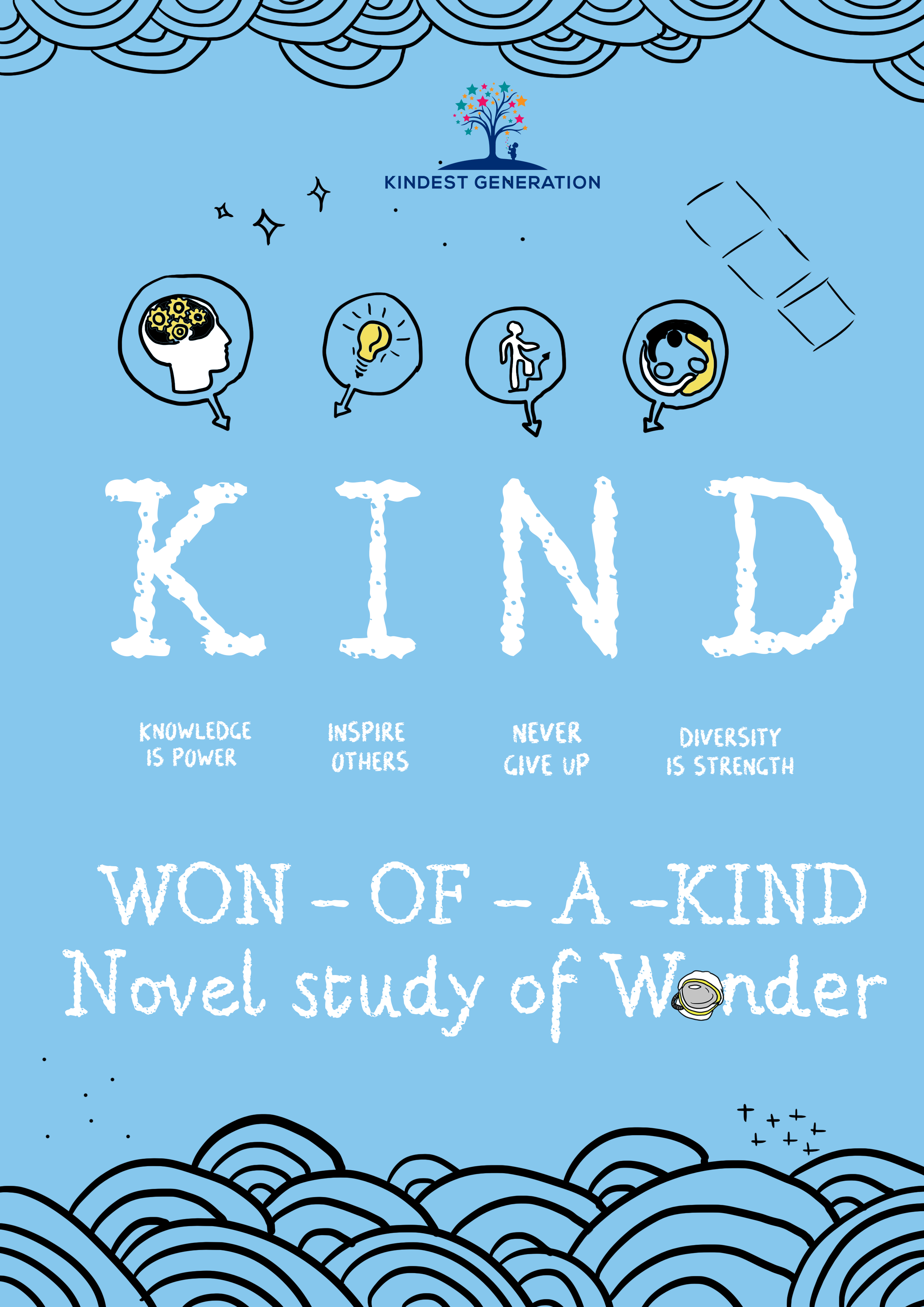 The Kindest School is proud to present our #WonOfAKIND novel study, designed to be a 21st century reading companion to R.J. Palacio's novel, Wonder. 
This first lesson covers the chapters from "Ordinary" to "Meeting Mr. Cushman." Educators can download the first of five lessons focusing on Part One of Wonder into their Nearpod library and use it with their class tomorrow, all at the click of a button! This #WonOfAKIND novel study contains 22 interactive, ready-to-teach lessons, along with 8 assessments for each part of the novel.
This Won-of-a-KIND novel study was recently discovered by Quizlet, who subsequently made The Kindest School one of Quizlet's first "Premium Content Partners!" The Kindest School's premium Quizlet content contains 600 unique terms with parts of speech and images, including pop-culture references and idioms, as well as 75 multiple choice reading comprehension questions. (***Many of those terms and questions can be found in this novel study, as every lesson begins with a 12-term vocabulary set on Quizlet!)
Parents who enroll their children in our Kindest Generation Global Reading Initiative will also receive a complimentary coupon* to share with their child's teacher, which will allow them to download the entire novel study for FREE!
Part One (which contains 5 lessons) will always be available to download for FREE to anyone.
Educators can donate and subscribe to The Kindest School to receive 36 KIND non-fiction lessons (with directions for all activities translated into Spanish, Korean, Mandarin, and Thai) along with three novel studies in 2019! Those novel studies will be Wonder, Harry Potter and the Sorcerer's Stone, and Tuesdays with Morrie!
Here's are just some of the benefits of using The Kindest Generation in the Classroom!
Use this with your students today!

It's yours to own forever!

Customize and edit this lesson to meet your teaching style!

Control your student's devices!

Get feedback in real time!

Download every student answer from the lesson into your Google Drive or local drive! (Class or student reports)

Minimal planning, maximum engagement!

Environmentally friendly and completely paperless!

NO MORE COPYING PACKETS!
If you don't have a Nearpod account already, sign up here. You're minutes away from using this ready-to-teach lesson with your students!
Help us #GrowKindness by following us on Instagram, Facebook, and on Twitter!
*Annual enrollment required to qualify for the Teacher Edition coupon.